GORILLA CAGE BIKE PACKING
The gorilla cage is a detachable holder system which allows you to carry just about anything light and bulky.
ADAPTOR SOLD SEPARATELY
Gorilla Cage is a simple and easy system of holder which can quickly attach and detach to and from your bicycle.
There you can take any light and bulky tent, sleeping bag, big bottles or whatever you think that fits. Max load 1,5kg
It can be attached to either 2 or 3 cleats but if you don't have the bottle bosses, GORILLA CLIP (+sold separately) will solve your problem so you can easily mount your Gorilla Cage on the forks or anywhere on your bicycle.
In case you have more than one bicycle, you can always transfer your Gorilla Cage between them.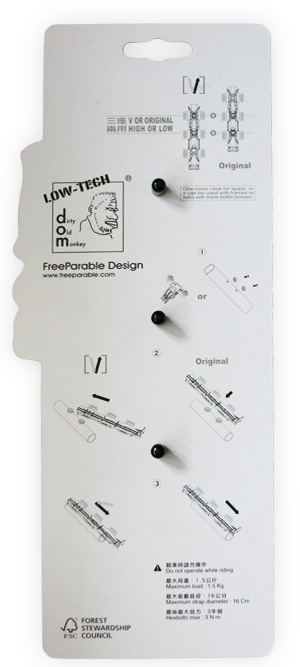 Gorilla Cage Details
Name – gorilla cage
Material  – Polyamide, strong and flexible
Fixing – 2 or 3 monkii cleats (supplied)
Detachable – Only monkii cleats remain on frame
Weight – 87g, very light
Size Approx – 24,5 x 8 x 3cm
Manufacturers max load – 1.5kg
Manufacturers max load size – 40cm x 25cm